Vous êtes ici : Société d'études modernistes (SEM) / Version française / Événements
Séminaire bi-annuel de la SEM: 'Beastly Bloomsbury' Derek Ryan (University of Kent)
Publié le 11 septembre 2019
–
Mis à jour le 12 novembre 2019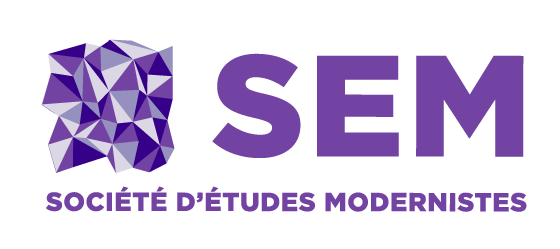 Séminaire bi-annuel de la SEM // The SEM's biannual seminar
Date(s)
le 15 novembre 2019
16h30-18h30
Lieu(x)
Salle 16, Institut du Monde Anglophone, 5 rue de l'École de médecine, 75005 Paris.
La SEM acceuillira Derek Ryan de l'University of Kent qui nous présentera une conférence intitulé "Beastly Bloomsbury" (résumé ci-dessus).
Discutante : Caroline Pollentier (Sorbonne Nouvelle)

//

Derek Ryan of the University of Kent will be our guest speaker. His talk is entitled "Beastly Bloomsbury"
Respondant: Caroline Pollentier (Sorbonne Nouvelle)

The Bloomsbury Group was paradoxically viewed as beastly in its supposedly elitist view of civilization, from Wyndham Lewis's portrayal in The Apes of God (1930) to Queenie Leavis's swipes in her notorious review of Virginia Woolf's Three Guineas, 'Caterpillars of the Commonwealth Unite!' (1938). At the same time, the group occasionally set themselves explicitly above the beastly, with Clive Bell characterising 'the enthronement of reason' as the human transcending its animal part and breaking free from 'the confines of bestiality' (Civilization [1928]). Yet, rather than using the beast as a device to ridicule or reinforce Bloomsbury's humanism, this paper will explore the fundamental but complicated role animals play in the group's broader conceptualisation of human nature, politics and aesthetics. Focusing primarily on writings by Leonard Woolf, David Garnett, Virginia Woolf and E. M. Forster, I will argue that Bloomsbury engages both directly and subtly, seriously and playfully, with the material significance of beasts and the contexts in which they were encountered in the early twentieth century – whether in game sanctuaries, zoological gardens, bedrooms or colonial clubs. In doing so, I will consider how beastly Bloomsbury both unsettles our reading of literary animals and challenges our received notions of what matters most to a group whose work is often taken for granted in the rush to expand the parameters of modernist studies.




Mis à jour le 12 novembre 2019